There are two shortcuts of MEmu App Player on your desktop after installation.
One is MEmu, the other is Multi-MEmu.  To add multiple accounts and run multiple sessions simultaneously, we need to add them into Multi-MEmu first.
Adding Accounts to Multi-MEmu (MM)
Double click the shortcut on your Desktop to start Multi-MEmu.
Click the Create button to create several instances of MEmu (accounts)
DO NOT CLONE OR IT CAN CAUSE THE GAME TO DISCONNECT FROM GMAILS
Each one of these instances will represent 1 account in the bot.  Changes you make here will also appear in the bot "Accounts" tab.  Make sure you Click the Refresh button after changing.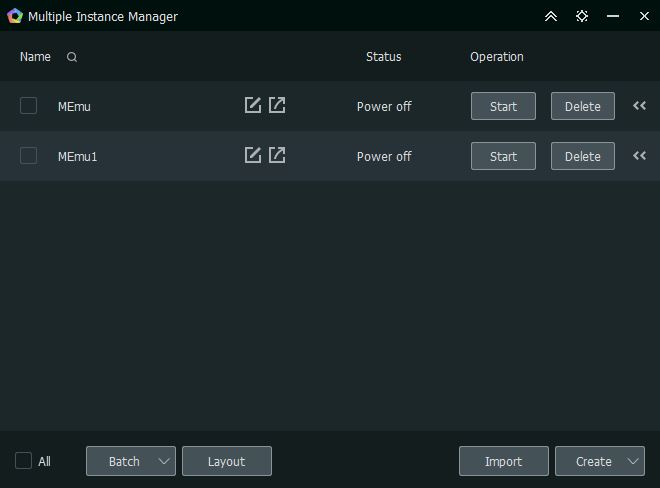 Using Multi-MEmu
There are a number of features MM allows, including backup and restoring instances using the Import and Export buttons.  You can Start, Delete, and Rename instances as you like.
Each of these instances represents a single account (game account) loaded onto a phone.  For example, if you have 4 instances, you essentially have 4 phones with 4 different game accounts the bot can open at once (sessions) or rotate between.
In theory, there is no limit on the number of sessions running MEmu instances, as long as your PC's hardware resource is capable to support, especially memory size.
These steps are for the following bots
Clash of Kings Bot - KingsBot
Guns of Glory Bot - GunsBot
King of Avalon Bot - KoAbot
COK: The West Bot - KingsBot West
Lords Mobile Bot - LordsBot
Final Fantasy XV Bot - FFXVbot
War and Order Bot - WaoBot
Rise of the Kings Bot - RokBot
Last Empire-War Z Bot - WarZbot
Last Shelter Survival Bot - LssBot
ZGirls Bot - ZgirlsBot
Mafia City Bot - MafiaBot