How to Download & Install GnBots on PC
This guide will help you download and setup GnBots on your Windows computer. Please ensure you follow all steps completely and carefully as any wrong setting could cause errors within the bot.
Step 1: Download the GnBots.zip File
First you need to download the GnBots zip file onto your windows computer so you can install it.
Click Here to Download GnBots 5 on your Windows 7 or higher PC.

Tip: If the download doesn't work, your Anti Virus or Windows Defender may be blocking it or you are not on a Windows PC. For

MAC, Android or iOS

- View the Bot Server Guide Instead
Step 2: Extract the Zip Files
Once the download finishes, open the Zip file and extract all to your PC Desktop.
Click here for an advanced guide on how to unzip files if needed.
Step 3: Open the Bot
Open the GnBots Folder and run the GnBots.exe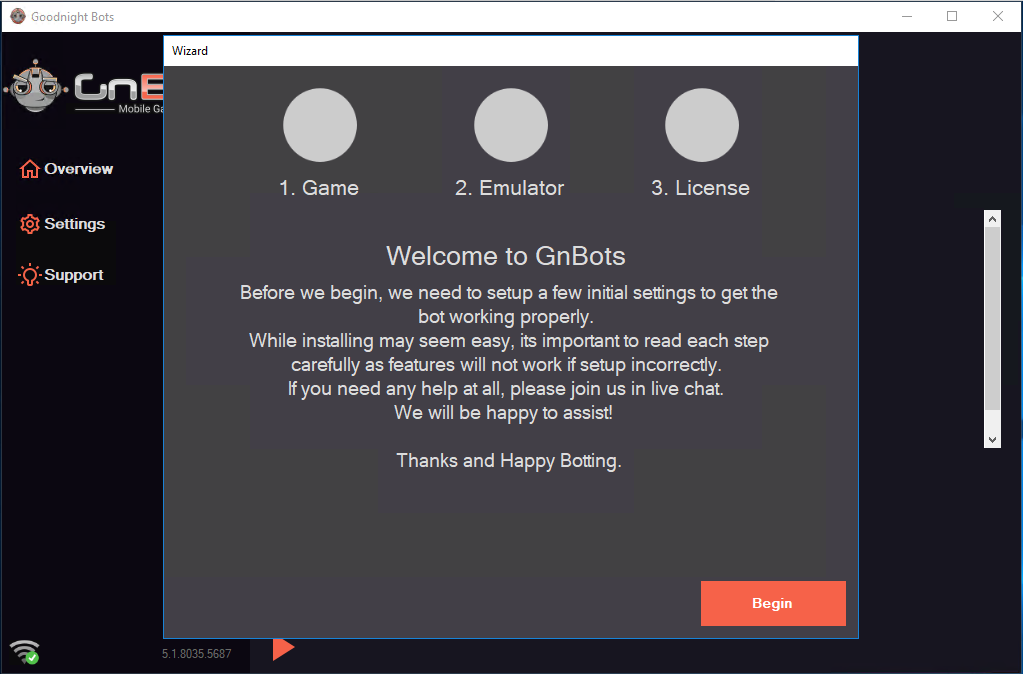 Click Begin to move to the next screen in the setup wizard.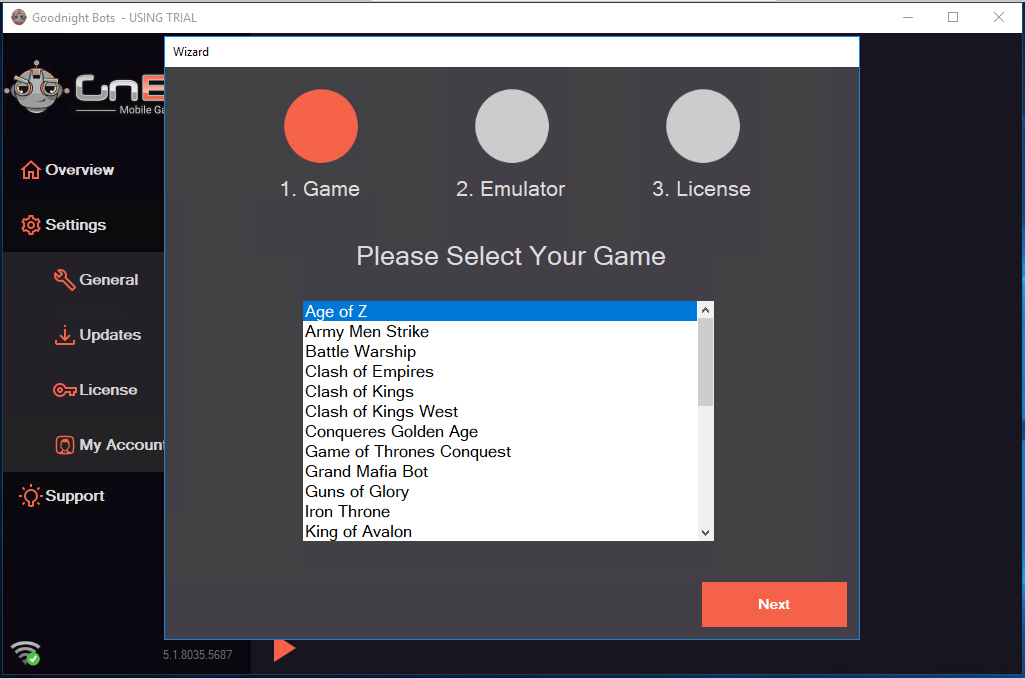 Select the game you play. This can be changed at any time later if you play multiple games.
Click Next to move to the next screen in the setup wizard.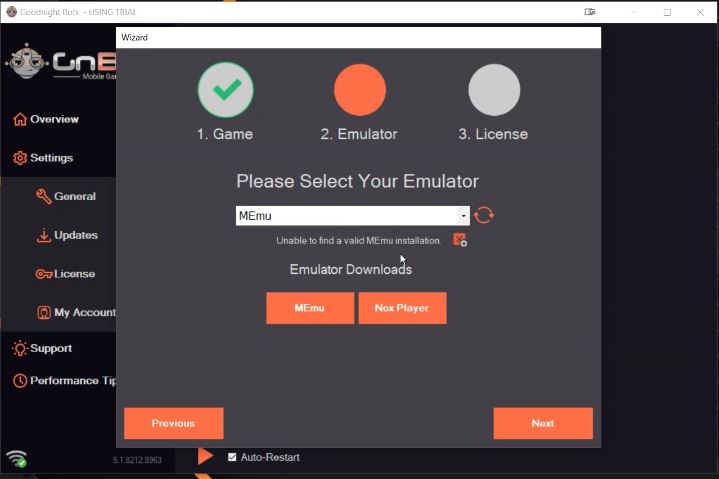 Next you will need to choose which emulator you would like to run with the bot.
If you don't have an emulator installed already, it will say "Unable to find a valid installation"
Click the MEmu or Nox Player button to download now.
These are the only two emulators we support at this time. You cannot use Bluestacks or LD Player.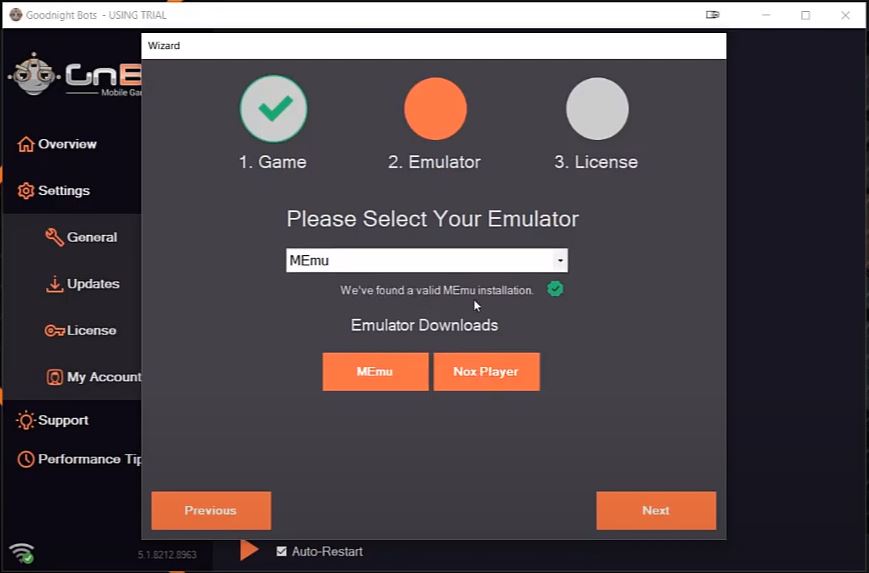 After your install an Emulator, click the Refresh icon to check for a valid emulator installation.
Click Next once it says "We've found a valid installation"
Step 4: Use the Basic Trial or Activate your License Key
The Trial is the Basic plan you can use forever with the basic actions. You can run it for 2 hour sessions and includes Multi-Instance Mode, Unlimited Accounts, and ability to play multiple games at once.
The License is the Pro Plan includes everything from the Basic plan and a full access license key that unlocks all premium actions.
Click the Use Trial button to start the Free Basic Plan
or Enter your License and click the Activate License button to start your Pro Plan
You can purchase a Pro License Key at any time to upgrade from the Basic Plan.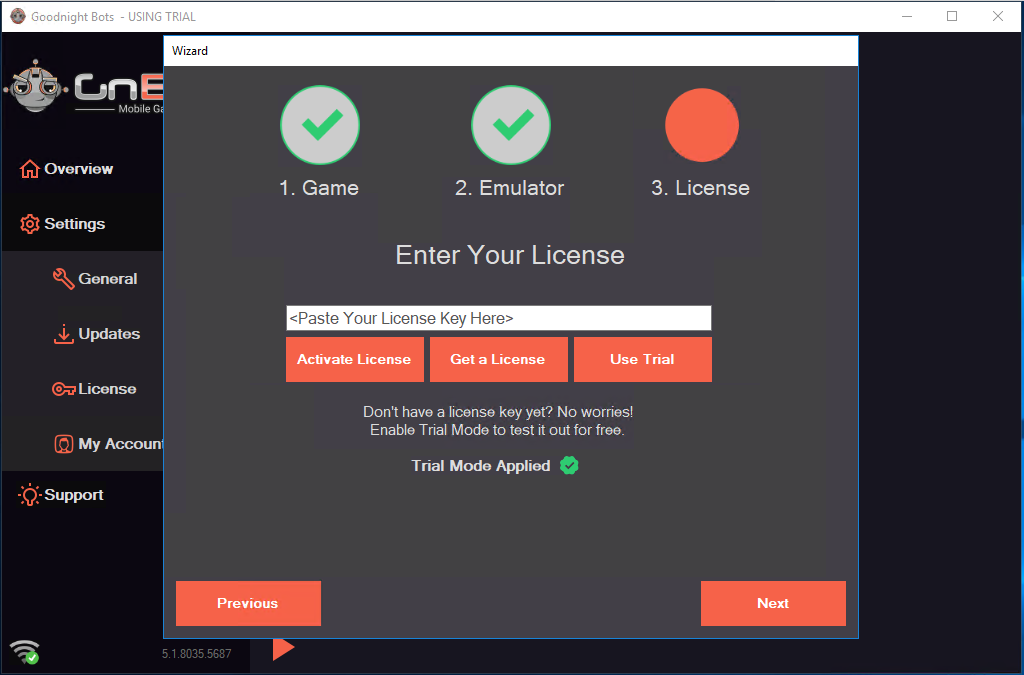 Click Next once you've activated a plan.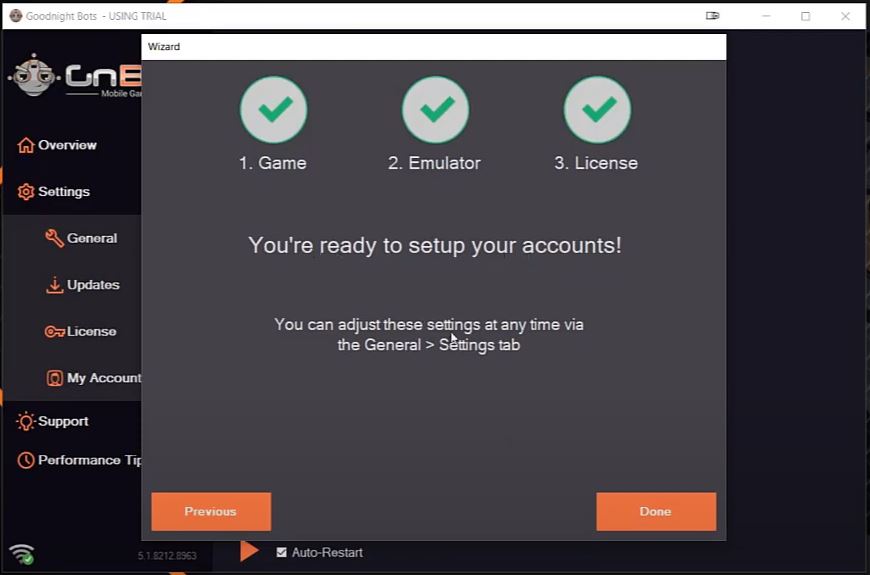 You have now completed the download and install process
Click Done to close the setup wizard
Next Step → Click Here to Learn How to Add Accounts